RICK WHARTON, MANAGING DIRECTOR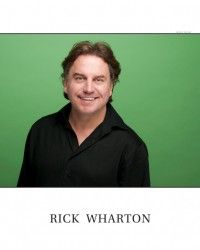 Rick Wharton has served as Director of Festival Hall for the past ten years. Educated in Television and Film at Ryerson University and Fine Arts at York University, Rick's multifaceted twenty five year career in music, comedy, acting, voiceovers, radio, production, instruction, directing, marketing and writing has enriched Festival Hall Centre for the Performing Arts.
Rick has always flourished in a fast paced environment and wears many hats in production, artistic direction, marketing and facility management. As a former head of Promotions at Universal who worked with the most celebrated musicians of our time, Rick has accessed his connections to bring never before seen events to Festival Hall within a limited budget As a comedian, Rick is a former member of Toronto's Second City, performing both on Mainstage and with the Touring Company and has also been a working improvisor with troupes and at corporate functions. He has shared the stage with the likes of Colin Mochrie, Pat McKenna, Air Farce members, Rich Little, Rick Mercer, Brent Butt and too many others to mention. He is a co-producer (and double nominee) of the Canadian Comedy Awards and brought the semi finals of "The Funniest Person in the Valley" to Festival Hall along with comedians such as Gerry Dee, Mary Walsh and Women Fully Clothed.
Widely recognizable as "The Conspiracy Guy" cult character who appeared on SPACE: The Imagination Station for several years Rick has also appeared in dozens of television and radio commercials, tv shows, film, and stage productions. Rick utilizes contacts in radio and the media to gain advertising and promotion for little or no cost.
As a notable producer and host of live events in music, comedy, theatre and charitable events, Rick adds value by lending his talents to user groups, in-house productions and promoters at Festival Hall. By bringing together players in new and untested combinations, Wharton is known for "giving each show an extra jolt of crackling unpredictability that heightened the wit and vitality of the performance." (Toronto Star)
He applies these strategies to each production at Festival Hall. A series of acclaimed fundraising events in both Toronto and Pembroke have benefitted many charities. Rick has now developed a Patron of the Arts Program which will be launched once things are in place. Rick also works with schools and military families with "Shenanigans", a program designed to use improvisation and comedy to promote communication and self esteem. His plan is to take this class to the stage at Festival Hall in the form of workshops and Improv clubs in partnership with the military, high schools, boys and girls clubs, Community LIving, youth groups and more. Rick has hosted a weekly radio program on CHIP FM for several years which showcases Canadian music, comedy which he has used to leverage and promote Festival Hall. He has experienced great things in his career, but feels that the resurrection of Festival Hall Centre for the Performing Arts and his role here is his proudest achievement but one that has only begun.